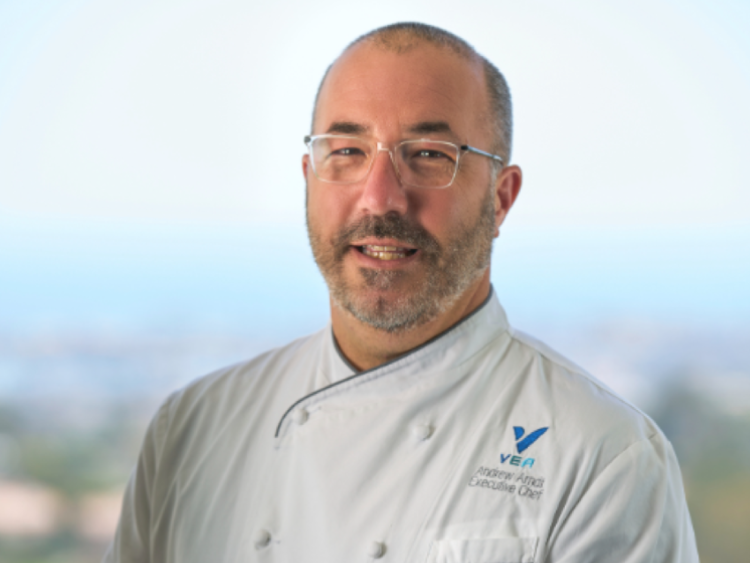 Executive Chef, Andy Arndt
With a love for cooking starting at a young age, Executive Chef Andy Arndt began as a dish washer at a restaurant near his home in Ramona, California at the age of 14, and began to assist with prep work in the kitchen a few months later. While attending the California Culinary Academy-- an affiliate of Le Cordon Bleu located in San Francisco - Arndt had the opportunity to work at celebrated restaurant Boulevard under Chef Nancy Oakes, an experience that would shape his future career by teaching him the importance of fresh, seasonal ingredients. In 1998, he accepted a position with MC2, helping Chef Yoshi Kojima execute a French-Californian menu with subtle Japanese elements.
Following his positions in Northern California, Arndt relocated to New York City to expand his repertoire working under some of the city's leading chefs, like Chef Rocco Dispirito at Union Pacific, Chef Wayne Nish at March, and Chef Tom Colicchio at Gramercy Tavern, expanding his knowledge of East Coast ingredients. He was then hired at Halcyon Restaurant at the Rihga Royal Hotel as the Chef de Cuisine, where he managed a kitchen staff of 40. Arndt returned to the West Coast to work, landing his first Executive Chef role at the Ojai Valley Inn & Spa in 2004. There, he was responsible for the hotel's culinary program and its farm-to-table mentality, during which the resort acquired an AAA Five Diamond Rating. From there, he continued his role as Executive Chef for Elaine Bell Catering from 2008 to 2009 and for the Grand Heritage Hotel Group from 2009 to 2011 before his start with the Marriott brand.
In his current role at VEA, Arndt brings approachable, yet elevated menus focused on seasonality and innovation. His goal is to create experiences from arrival to departure, with every aspect designed to create memorable moments and supply a "wow" factor.